Marie-Noëlle Elissac-Foy
Chart.PR, MCIPR
Director and Public Relations Strategist
Marie-Noelle Elissac-Foy is the Founder and Director of The Talent Factory, a Public Relations firm offering services in Communication, Public Relations Strategy, Media Relations, Events Management and Editorial Services. She has successfully transitioned from a long career in the local media to Public Relations Strategist.
In 2020, she became the first Mauritian to be awarded the status of Chartered Public Relations Practitioner by the Chartered Institute of Public Relations, the world's only Royal Chartered professional body for public relations practitioners. Today, she is an established professional advising business owners of enterprises of all sizes and in all industries, as well as collaborating with international institutions.
Marie-Noelle Elissac-Foy is also a regular spokesperson on women empowerment, leadership and a staunch advocate for greater recognition of Mauritian SMEs.
Charline Chan Chuen Mo is currently the project lead of The Talent Factory. Holder of a bachelor's degree in communication, she occupies the post of administrative and distribution manager at Porteurs d'Images in 2015, an association having established a short film festival and producing short films.
In 2019, she joins the Delegation of the European Union of Mauritius at the Press and Information Section. Having worked on various editions of the Île Courts Film Festival, she brings her know-how to the organization of the first European Union Film Festival.
In August 2019, she starts working with a long-term collaborator, The Talent Factory, an engagement that brings her with new challenges, knowledge and opportunities.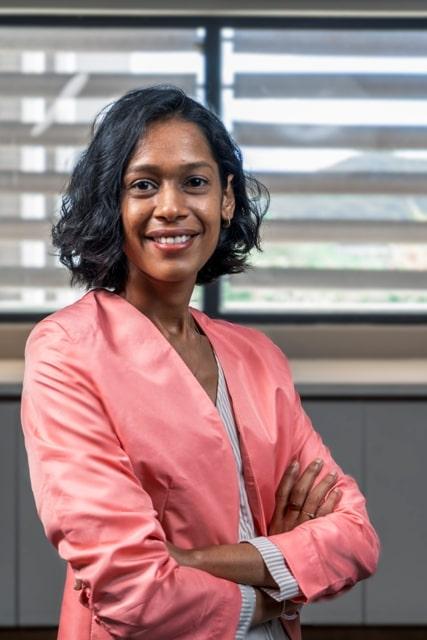 Stephanie Elissac-Godere is the administrative manager of The Talent Factory. Following a career spanning more than a decade in the fashion/textile industry, she decides to take a break in 2015.
Taking the time to explore other opportunities, she discovers a newfound interest in the entrepreneurship field through Marie-Noëlle, and begins to collaborate with entrepreneurs on a part-time basis.
Encouraged by Marie-Noëlle's success as an entrepreneur in her field, she decides to support her by way of her full-time collaboration in her current position at The Talent Factory since 2018.
The company being a nano-enterprise, meticulous multi-tasking is a key element that Stephanie enjoys mastering. Beyond performing administrative duties and follow-ups, she liaises with the local press and media to ensure effective coverage of ongoing events. She is also responsible for providing media monitoring reports to customers following the events carried out.